How to login in new irctc nextgen(Next Generation) website ?
As we can see that irctc have changed their portal, and because of that many people are facing issues while trying to login in new irctc nextgen website.
And the cause, because of i am referring it as nextgen irctc website is irctc launched this new portal by announcing it as a next generation web portal of irctc.
Steps to login in new irctc website
First Step:
Open url https://www.irctc.co.in/nget/
open the above link in your browser or directly click over it.
---
Second Step:
Click on the login button available on the top of the menu.
When the URL get opened in another window. Click on the login menu available at the top of the menu.

---
Third Step:
Fill out the login form of irctc showing in popup
After clicking on login button, you will find a login form of irctc next generation(nextgen) website. you need to enter username and password along with captcha, might be you have to enter otp code while login. after filling out the form click on login button and you will successfully get redirected into your irctc account.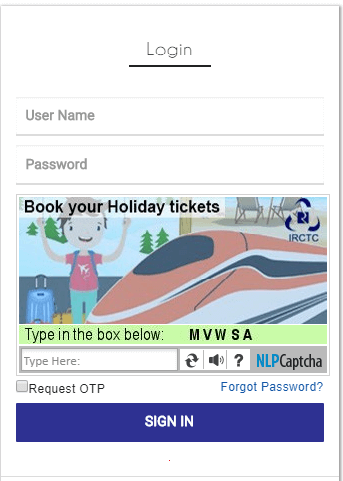 ---
Note: If you are getting error after clicking login form. Then you should check your credentials, captcha verification.you should be carefull while filling out the login form because if any error occurred you will be asked again to enter credentials.
Now i am pretty sure that if your was facing some issue while login or if there was some confusion related to how to login with irctc then they must be clear after reading above steps.
We have also attached some visuals so that they can help you to understand the irctc login process easily.